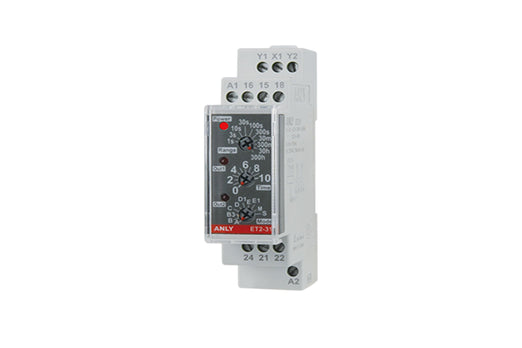 Download Product Catalog Download Product Manual Function:*On Delay*Repeat Cycle OFF Start*Repeat Cycle ON Start*Signal ON/OFF Delay*Signal OFF Delay*Signal OFF Delay (Signal OFF Output)*Interval (Signal ON Delay)*Interval (Signal OFF Delay)*ON/OFF Function*Start-Delta Chang-over...
Availability:
41 In Stock
Product Type:
Analog Timer
Function:
*On Delay
*Repeat Cycle OFF Start
*Repeat Cycle ON Start
*Signal ON/OFF Delay
*Signal OFF Delay
*Signal OFF Delay (Signal OFF Output)
*Interval (Signal ON Delay)
*Interval (Signal OFF Delay)
*ON/OFF Function
*Start-Delta Chang-over
Operating Voltage: AC/DC 24-240V

Rated Frequency: 50/60 Hz
Contact Rating: 250VAC 5A (Resistive Load)
Reset Time: Max. 0.1s
Power Consumption: Approx. 3VA
Time Range: 1s – 300h
Output Contact: 2 x SPDT
Dimension: (H)90.6mm x (W)22.5mm x (D)56.6mm
Make / Brand: ANLY
Country of Origin: Taiwan
Weight: 90g
Shipping:
Can I track my order?
Once we ship the items we will send you an email containing the shipping company name and tracking number for your reference. You can always contact them for accurate shipping time.
How many days will delivery take?
All local UAE deliveries will be done within 1-2 working days from time of confirmation.
What are shipping costs?
All local UAE deliveries cost a flat fee of AED 25 for order values below AED 250. All orders above this value will be shipped for free.
Do you ship internationally?
Yes we ship globally. You can choose your point of destination at checkout. Shipping costs will also be displayed at checkout.
Orders:
Can I amend my order?
If you wish to cancel your order, log in to your account and file for a return. You can always call and request changes as well if you prefer to do so. Refer to our returns and refunds page to know more about this policy.
Order items are out of stock
If you have placed an order for an item which is no longer in stock, we will process your refund immediately. We are sorry for the inconvenience caused
Order Validity:
Cash on Delivery/Collection orders placed on our website will be considered as cancelled if the order is not collected within 7 days from confirmation.
Customer Account
Why should I create an account?
Creating an account ensures that all your details are saved ensuring a quick checkout. In addition you can always review all your previous orders with us.
Tax Invoices
Send us an email at orders@qahraba.com with your order number requesting for a tax invoice and our team will send it as soon as possible.
Refund policy
If would like to return an order, kindly log in to your account and request a refund. You can refer to our returns and refunds policy page
Note:
Customers will have to pay for all return charges to our store (Local & International): Our team will inspect the item to ensure that it is in its original packing, unopened and unused. Refunds will then be issued accordingly.
Payments via debit/card: All payments made via a debit or a credit card will be refunded directly to your card.
Cash Payment:
All Payments made in Cash will be refunded immediately at the time the product is returned to our store and inspected by our staff.