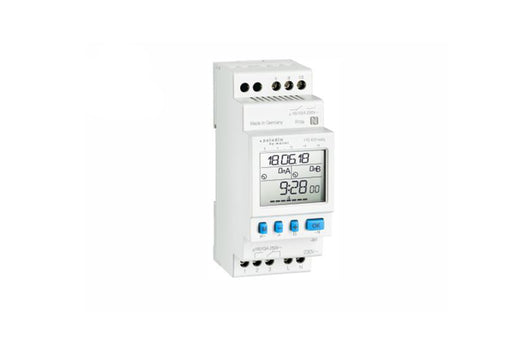 Product Catalog Product Manual Weekly Programmable Timer 1 Channel Daily & Weekly Program 56 Memory Locations 10 year battery-reserve Minimum interval 1 min Switching Capacity 16 A Extra Switching times...
Availability:
27 In Stock
Product Type:
Digital Weekly Timer
Weekly Programmable Timer
1 Channel
Daily & Weekly Program
56 Memory Locations
10 year battery-reserve
Minimum interval 1 min
Switching Capacity 16 A
Extra Switching times ON, OFF and Pulse by Date and Time
Manual Permanent Mode
Manual override
Fully automatic daylight saving time
Easy Handling
Illuminated Display
Security PIN-Code
NFC Programming
Make / Brand: Hugo Muller
Country of Origin: Germany
Supply voltage
230 V, 50-60 Hz
other voltages on request
Power consumption (real power)
0,2–1,0 W (depending on the switching status)
Channel (potential-free)
change-over
Contact material
AgSnO2
Switching capacity
per channel
resistive load:
inductive load:
16 A / 250 V~ at cosφ=1
10 A / 250 V~ at cosφ=0,6
Min. switching power
1.000 mW (10 V / 10 mA)
Max. starting current
50 A
Filament Lamp, Halogen Lamp
2.000 W
Fluorescent Lamp uncompensated
1.000 W
Fluorescent Lamp series compensated
1.000 W
Fluorescent Lamp parallel compensated
550 W
CFL
200 W
LED (230 V~)
(LED lamps > 5 W)
200 W
Switching functions
ON
OFF
impuls
extra
permanent
Memory locations
56
Minimum interval
1 Min.
Time base
Quarz
Quartz accuracy (at 20°C)
≤±0,5 Sek./day (Quartz accuracy optimized for typical ambient conditions)
Power back-up (at 20°C)
approx. 10 years (exchangeable battery CR 2032)
Program security
unlimited
Display
illuminated LCD-display
Permitted ambient temperature
–30°…+55°C
Housing
self-extinguishing thermoplastic
Dimensions
45 x 35 x 58 mm
Mounting
35 mm DIN-rail
Type of connection
Screw terminals (pull-up type)
Type of protection
IP 20 to DIN EN 60529
Class of protection
II when installed according to regulations
Mode of operation
(DIN EN 60730-1)
(DIN EN 60730-2-7)
1 BSTU
Degree of contamination
(DIN EN 60730-1)
2
Rated surge voltage
(DIN EN 60730-1)
4 kV
Accessories
(free download)
Programmable with smartphone via NFC
(Android App – Save`n Carry)
Certification mark
VDE
Shipping:
Can I track my order?
Once we ship the items we will send you an email containing the shipping company name and tracking number for your reference. You can always contact them for accurate shipping time.
How many days will delivery take?
All local UAE deliveries will be done within 1-2 working days from time of confirmation.
What are shipping costs?
All local UAE deliveries cost a flat fee of AED 25 for order values below AED 250. All orders above this value will be shipped for free.
Do you ship internationally?
Yes we ship globally. You can choose your point of destination at checkout. Shipping costs will also be displayed at checkout.
Orders:
Can I amend my order?
If you wish to cancel your order, log in to your account and file for a return. You can always call and request changes as well if you prefer to do so. Refer to our returns and refunds page to know more about this policy.
Order items are out of stock
If you have placed an order for an item which is no longer in stock, we will process your refund immediately. We are sorry for the inconvenience caused
Order Validity:
Cash on Delivery/Collection orders placed on our website will be considered as cancelled if the order is not collected within 7 days from confirmation.
Customer Account
Why should I create an account?
Creating an account ensures that all your details are saved ensuring a quick checkout. In addition you can always review all your previous orders with us.
Tax Invoices
Send us an email at orders@qahraba.com with your order number requesting for a tax invoice and our team will send it as soon as possible.
Refund policy
If would like to return an order, kindly log in to your account and request a refund. You can refer to our returns and refunds policy page
Note:
Customers will have to pay for all return charges to our store (Local & International): Our team will inspect the item to ensure that it is in its original packing, unopened and unused. Refunds will then be issued accordingly.
Payments via debit/card: All payments made via a debit or a credit card will be refunded directly to your card.
Cash Payment:
All Payments made in Cash will be refunded immediately at the time the product is returned to our store and inspected by our staff.